Museums & Themed Attraction Projects
Design, project management and complete turnkey installations. Manage capital project budgets including government grants. Unique museum & themed attraction projects worldwide often with difficult installation challenges.
Britannia Mine Museum
A National Historic Site - Britannia Beach, BC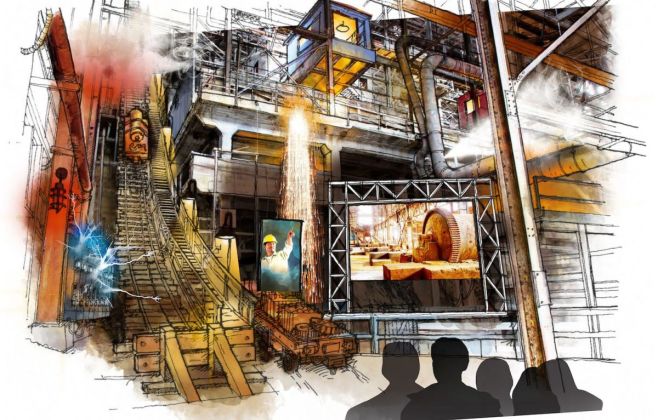 The $4.3 Million second phase of building the museum required the creation of a new feature attraction inside the iconic 20 story Mill #3 building. The new attraction, BOOM!, brings the mill back to life with an immersive you-are-there experience with multi screens, a forty speaker sound system, animated sets, sparks, simulated dust and a "run-away" rail car travelling on the original,100 year old track system up the side of the mountain. It's an educational, emotional and thrilling experience for families and school groups. Part of this second phase was the restoration of existing buildings converting them into the Terra Lab for school classroom and the Chatterbox Café, a new food service for Britannia Mine Museum.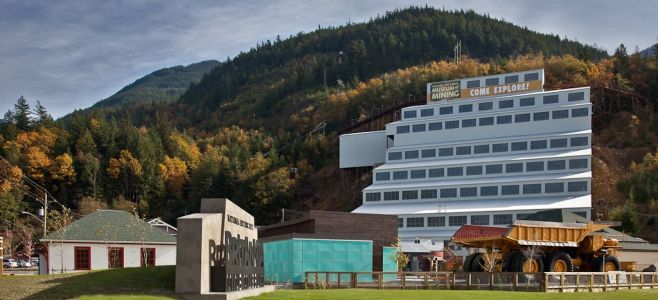 "Thanks for all your hard work on the Britannia Project – It provides great peace of mind!!"
Leonie Tomlinson, Britannia Board
Nancy Holme of Echo West project managed the revitalization and improvements to the Britannia Mine Museum. The project was subject to a very tight time line and financially sensitive critical path. The Board asked Nancy to join the team to save their current government funding and reorganize the complicated budgeting, cost control and construction of the $15 million program funded by Federal & Provincial government grants and private sponsors.
The project comprised multi building renovations, new infrastructure throughout the site and a variety of new exhibits and experiences from theatres to interpretive displays to interactive activities
Honoured by the Canadian Museums Association with the award for Outstanding Achievement in Facility Development and Design
"The Britannia Project was highly specialized and subject to very tight timelines and a financially sensitive critical path. You addressed all of the issues proactively and the Board and staff have taken much comfort from your skill set and exceptional attention to planning and reporting.

Thank you for the exceptional contribution you have made to our organization....we value highly the relationship we have formed with you."
Board of Directors of the Britannia Mine Museum & National Historic Site.
Oltremare Marine Theme Park
Riccione, Italy

Responsible for design direction, project management and construction of Pianeta Terra, the featured attraction at a new marine theme park in Italy
1,500 square metre, four act immersive theatrical attraction
Complex special effects, themed environments, animated sets, theatrical lighting, 3D projection and sound
Nancy Holme honoured by the Government of British Columbia with the BC Export Award for Media & Entertainment
"You've created a miracle! ...beyond our expectations!"
Sergio Lunardi, CEO, Oltremare srl

"Bravo! It's more than we expected!"
Claudio Villa, GM, Oltremare srl
---
The Age of Discovery
Lisbon, Portugal


"What a remarkable accomplishment! We gave you an almost impossible task!"
Vitor Goncalves, CEO, Park of Nations, Government of Portugal

Project managed a new theatrical attraction for Government of Portugal in the Park of Nations
Oversaw the demolition of existing World EXPO experience and replaced with this new production
Five act immersive theatrical attraction with motion simulator, special effects, elaborate sets, complex multi-screen projections, 3D sound and themed environments
---
United Nations World EXPO Pavilions
EXPO 86, Vancouver, Canada
EXPO 88, Brisbane, Australia

Designed and constructed the United Nations Pavilion at EXPO '86
Rated one of the top 10 pavilions at EXPO '86
Honoured by the United Nations with the International Year of Peace Award
Design direction provided for the United Nations Pavilion at EXPO '88 in Australia.
---
Danny Kaye Visitor Center
UNICEF Headquarters, New York C
ity
Designed and supervised installation of the first public exhibition in the new headquarters for UNICEF in New York City